1997's DHS Academic Decathlon Team, Right To Left: Abe Villareal, Robert Morales, Myself, Laura Rios, Joe Clifton, Juoy Melody, Amethyst Hinton (Our Coach), Anthony Rodriguez, And Heidi Aquino (sitting)

Academic Decathlon

The United States Academic Decathlon is an important team compitition wherein students match their intellectual wits with students from other schools. Students are tested in ten categories: 1, Language and Literature, 2, Economics, 3, Mathematics, 4, Science, 5, Fine Arts, 6, Speech, 7, Interview, 8, Social Science, 9, Essay, 10, Super Quiz.

Gold, silver, and bronze medals are awarded for individual events and total scores. Winners at various competitions around the country advance to the next level, culminating in a national championship.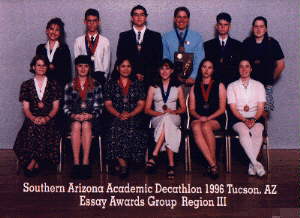 1996 Compitition's Essay Winners At The Arizona Academic Decathlon Region III Compition. My Good Friend Juoy Won A Bronze Medal (Top Left) And I Won A Silver Medal (I'm Pictured Next To Juoy)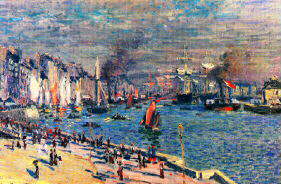 One Of This Year's Selected Paintings, "Port of Le Havre", by Claude Monet, The Philadelphia Museum of Art
Sorry, I don't have any other information on this page presently. Please check In Later.

E-Mail:bonna-dea@rocketmail.com
Return to Le Salon de Versailles
This Page Has Been Visited
Times Since October 10, 1997